Heritage & Culture
The Wexford Trail
Wexford is a county steeped in history and culture and now for the first time ever, it's history, culture and landscape sites and attractions are presented on a driving route trail of the county. The trail features a variety of 32 different historical sites and attractions across the county of Wexford and is believed to be the largest trail of its type in Ireland.
Below I have listed a few of the sites that are nearest to our cottages but all 32 are within easy reach. The entire Wexford Trail can be found on www.visitwexford.ie – see how many you can visit!
The Kennedy Homestead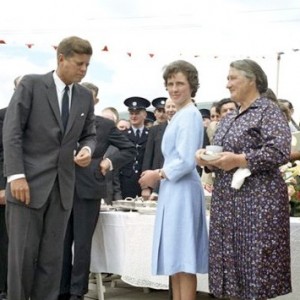 The Kennedy Homestead, birthplace of President John F. Kennedy's great-grandfather Patrick Kennedy, celebrates the story of five generations of the Kennedy dynasty and is still today farmed by his descendants. The Kennedy Homestead is a unique cultural museum dedicated to "the Kennedy story".
www.kennedyhomestead.ie
The John F Kennedy Arboretum
The park is dedicated to the memory of President John F Kennedy, it is an impressive and extensive park with a fantastic range of trees and shrubs from around the world. It has woodland walks a large kids playground, picnic benches, café and duck pond. A miniature train and pony and trap operate in high season. A beautiful place to spend a day.
Dunbrody Abbey and Castle
The Castle garden has a great hedge maze. Made with 1,500 yew trees, and gravel paths, it is one of only two full size mazes in Eire. Around the outside of the maze lies a 9-hole pitch and putt course. The Abbey and Castle are open to visitors to explore at will. Walks and picnic area available.
www.dunbrodyabbey.com
Dunbrody Famine Ship
Dunbrody Famine Ship is one the South Easts' top tourist attractions. Centred on an authentic reproduction of an 1840's emigrant vessel, it provides a world-class interpretation of the famine emigrant experience. Incorporating guided tour, costumed performers and themed exhibitions of the highest quality. It also has a great visitors centre and café.
www.dunbrody.com
The Hook Lighthouse
Built by the Normans some 800 years ago, this is the oldest intact and operational lighthouse in the world. Guided tours are offered all year round. The lighthouse provides dramatic ocean views, as well as incorporating a café, gift shop, and art galleries.
http://hookheritage.ie
Loftus Hall
It is reputed to be the most haunted house in Ireland, now open to the public, tour guides will take you through the ground floor of the house relating the grim and gruesome history behind Loftus Hall including its notorious visitor!
www.loftushall.com
Duncannon Fort
Built in 1588 to fend off the Spanish the fort is surrounded by a 30foot high moat. Military reenactments of Irish and world history take place every June bank holiday. Includes World at war exhibition, art gallery, and Maritime and Military Museum.
Tintern Abbey
A cistern Abbey founded c.1200. Today, visitors to this site can view the remains of the nave, chancel, tower, chapel and cloister. They can also participate in 45-minute guided tours of the property, which, in the 16th century, became living quarters for the Colclough family. Beside the Abbey is the enchanting Georgian Colclough Walled Garden.
www.heritageireland.ie
Ros Tapestry
These beautiful tapestries depict events around the Anglo-Norman arrival in the South East of Ireland and the founding of New Ross by William Marshal.
www.rostapestry.com