Our Story
Our story with Chloe's Country Cottages began 10 years ago when we decided to restore the outbuildings of Stevie's ancestral home. With little knowledge of what we were doing, but with a wish to preserve the buildings that have been in Stevie's family for generations we began work. The original stone has been used in all the cottages which was a labour of love for a local man called Sean who hand-picked each stone before expertly placing it. It's an art which requires a lot of patience and skill for which we are extremely grateful. We were keen to keep as many of the original features as possible, and we managed to preserve the original beams in Uncle Tom's Barn and the tiny window now in the sitting room where many a horse peeped out their head years ago! Uncle Tom's Barn and Mill Cottage as they are now have been in place since 2006 and 2 years later we added Rose and Sarah's Cottages.
We consistently achieve Four Star ratings for all our cottages from Failte Ireland and strive to offer our guests a warm welcome in comfortable surroundings.
We hope that if you choose to stay with us you too will love our cottages and the area.
A little history of the area of Poulmaloe or Piltown as it is sometimes called, covers a small area just outside the village of Whitechurch. The lane beside our cottages which leads to the river Barrow was known locally as 'the Stage' as it was used by ships to unload coal and other wares many years ago. It was a busy hive back then and used by locals also to get the boat to New Ross. It is believed that President Kennedy's grandfather, himself a local living just 2 miles away at the time, would have taken such a boat from here to New Ross to board the ship that took him to America all those years ago and the rest is history as they say!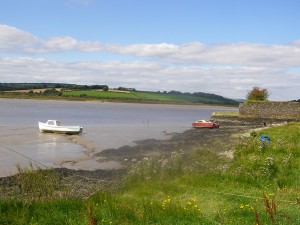 'The Stage' is a lot quieter these days but is a lovely peaceful place where the Galley cruising restaurant makes its trip from New Ross during the Summer season. Seals have also been known to put in an appearance from time to time if you're lucky enough to spot them!
To find out more you can contact Georgina and Stevie on
+353 (0)87 6977941
info@chloescountrycottages.com
or click here to Book Your Cottage Break Now