Gardens of Wexford
You are spoiled for choice with the variety of beautiful gardens spotted around our cottages.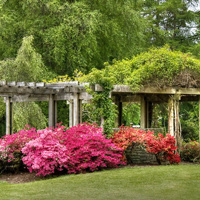 Follow the Garden Trail to visit one or all the county has to offer. On your doorstep (just 2 miles away) is the John F Kennedy Arboretum, it is an impressive and extensive park with a fantastic range of trees and shrubs from around the world. It's spread over 622 acres and is home to more than 4500 types of trees and shrubs. It is a lovely place to spend a day.
Just 1.5miles in the opposite direction is the equally lovely Kilmokea Gardens. Beautifully laid out around a great Georgian House overlooking the river Barrow the gardens consist of topiary lawns, herbaceous and mixed plants.
Many of the other great gardens along the trail are within a 25 minute drive, the Colclough Walled Garden, Johnstown Castle and Woodville House Gardens to name but a few. Plenty to keep you busy!